I
t all started with sunlight on water. As a team of scientists from the EPFL watched luminous ripples dancing across the seabed, they began to wonder how their patterns could be harnessed and controlled. After 8 years of research, the Rayy's co-founders Romain Testuz and Yuliy Schwartzburg found the answer: a unique, patented algorithm that deploys advanced optical simulation and high-precision tools to bring hidden words and symbols to life. Their invention has opened up a new space for fine jewellery, at the crossroads of art and science.
Thanks to this unique process, the surface of a jewel – referred to as the Mirror – is sculpted in such a way that any direct light source – a spotlight, a smartphone flashlight, or the rays of the sun – is reflected and focused to form an image or text. Yet the technology remains invisible. The mirror-polished surface – which echoes the ancient Chinese magic mirrors that baffled Western scientists for centuries – reveals no sign of the sophisticated craftsmanship it contains. Its message is only revealed when the wearer so desires, thus accentuating each creation's personal resonance.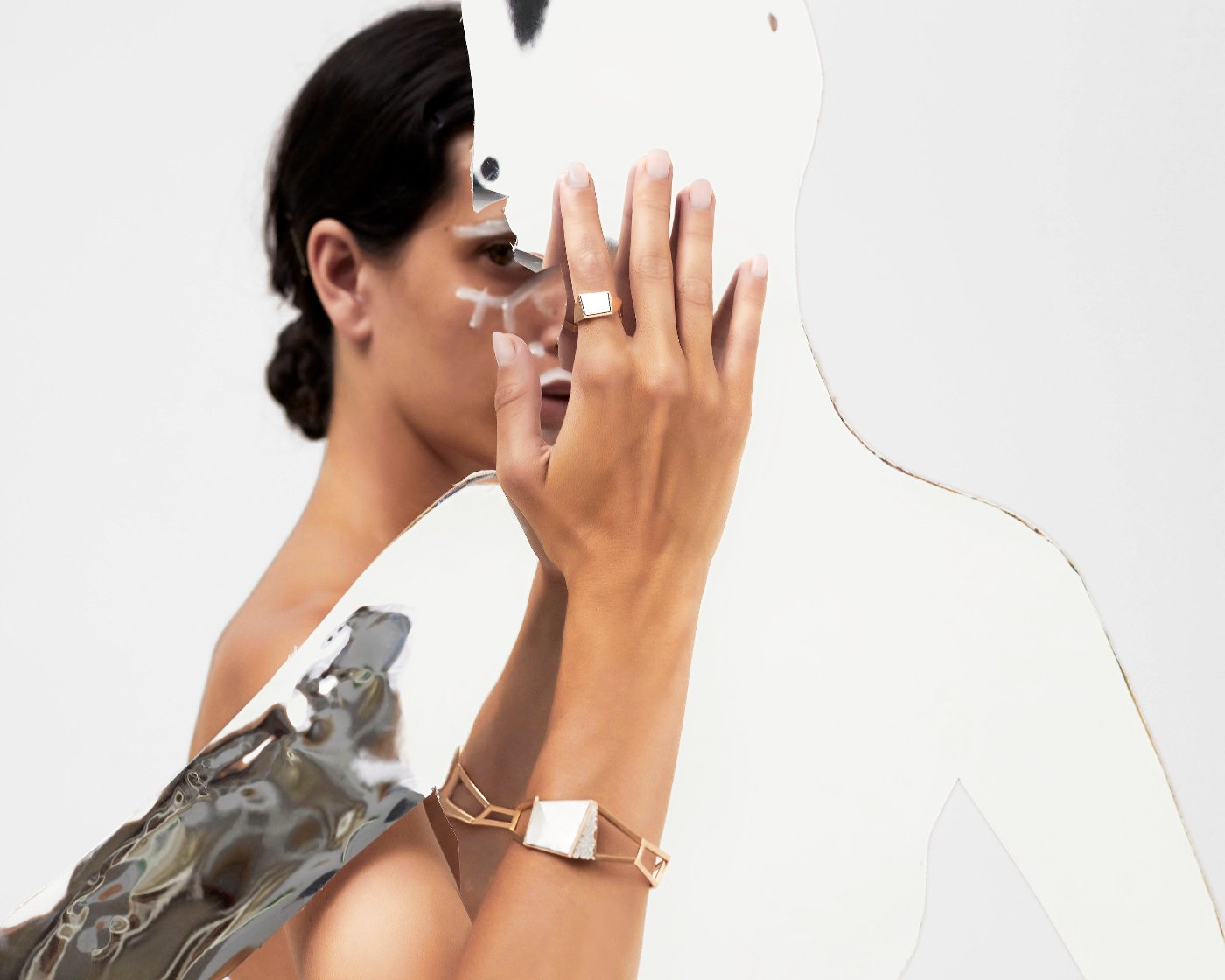 For its brand new collection Facets, the Rayy has explored an aesthetic that is both architectural and minimalist, the fruit of a boundary-breaking fusion of traditional jewellery techniques and advanced 3D modeling. It is design by subtraction, in which everything superfluous is removed until only the essence remains. Made up of four rings, a cuff bracelet and a pendant – in white, yellow or rose gold, with or without lab-grown diamonds – the collection treats mirrors like precious stones. Their highly polished surfaces provide the focal points for angular, contemporary pieces that fit like a glove. To add a unique graphic twist to the collection, the Rayy has joined forces with Blanca Miró Skoudy, a surrealist artist who lives and works in Barcelona.
The Facets collection is crafted by hand in Switzerland, using traditional jewelry-making savoirfaire. It highlights the dual facets of The Rayy – with its fertile synthesis of art and science – alongside the varied facets of its wearer's personality: all six pieces can be personalized to reflect the inner you. Blanca Miró Skoudy has created a series of four portraits inspired by the elements. They trace the contours of four distinct identities: whether the wearer is Wild as a Hurricane, Hot as the Sun, Solid as a Rock or Moody as Waves. Worn alone or combined, they put a unique work of art at your fingertips to capture your elusive inner truth.

To complete the collection, Blanca Miró Skoudy has also produced a magic mirror, which allows everyone to create a unique surrealist self-portrait. Available on Instagram and on the Rayy's website, it enables clients to use an Augmented Reality filter to see their own customized portrait, guided by the four distinct identities that make up the Facets collection. Once the portrait is complete, customers can choose to have it immortalized within one of the collection's six designs. Concealed inside the Mirror, it can then be revealed at will, as long as the sun shines.
That fluid approach to gender and identity is one of the things that make the Rayy unique. The brand's creations put people at center stage: instead of imposing a cliché, they celebrate their wearer's unique and individual identities. The Rayy's Creative Director Noémie Arrigo likes to say that she designs for personalities, not for genders. Why should diamonds only be a girl's best friend? Sustainability is another key pillar. All products are made in Switzerland, and there is no physical stock: each piece is made to order and delivered within four weeks. That ethical commitment is reflected in every facet of the brand. Its products are crafted from responsibly sourced gold, and lab-grown diamonds that preserve our planet's limited resources. The packaging is specially designed to avoid waste and manufactured in local factories.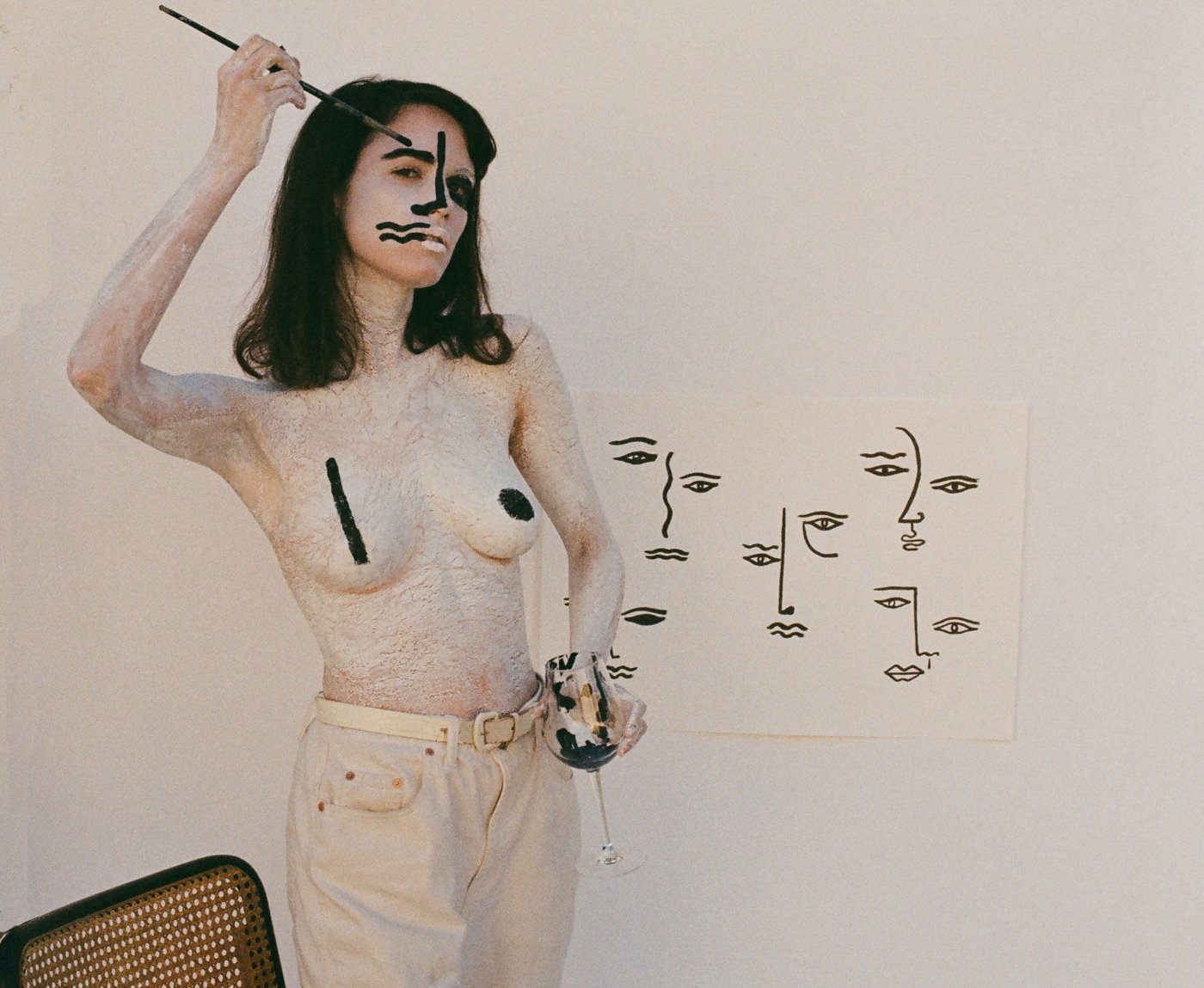 It is in a permanent commitment to innovation that the light of the Rayy shines brightest. Its Mirrors are crafted to an outstanding degree of Swiss precision, using high-tech machines in state-of-the-art workshops. From perfect diamonds created in a laboratory to the computer algorithm that sculpts their unique messages from light, its creations are a celebration of human ingenuity. At the Rayy, art and science do not exist in isolation: they flow into one another, creating something that is far greater than the sum of its parts. When art and science collide, the result is jewellery with soul.