I
nspired by the mesmeric hues of the sky at various times of the day, Gucci's new Hortus Deliciarum collection - which translates from Latin as "Garden of Delights" - echoes the eclectic quixotism of Alessandro's kaleidoscopic universe.
Drawing on the symbolic motifs that are dear to him and Gucci's multifarious canon of house iconography, the collection takes its cue from the ephemeral yet recurring beauty of the changing sky and its shifting colours and constellations - and the simple, spiritual pleasure of looking up, wherever you are in the world, to take it all in in a moment of wonder. The collection comprises more than 130 pieces, largely one of a kind, and its motifs are divided into 4 chapters informed by the majestic beauty of the natural world.
The first chapter is an ode to the majestic beauty of natural landscapes, recreating the great outdoors as preciously intimate talismans. Monumental natural features, such as waterfalls and softly windblown forestry, are re-created in miniature; in jewels that are delicate and romantic.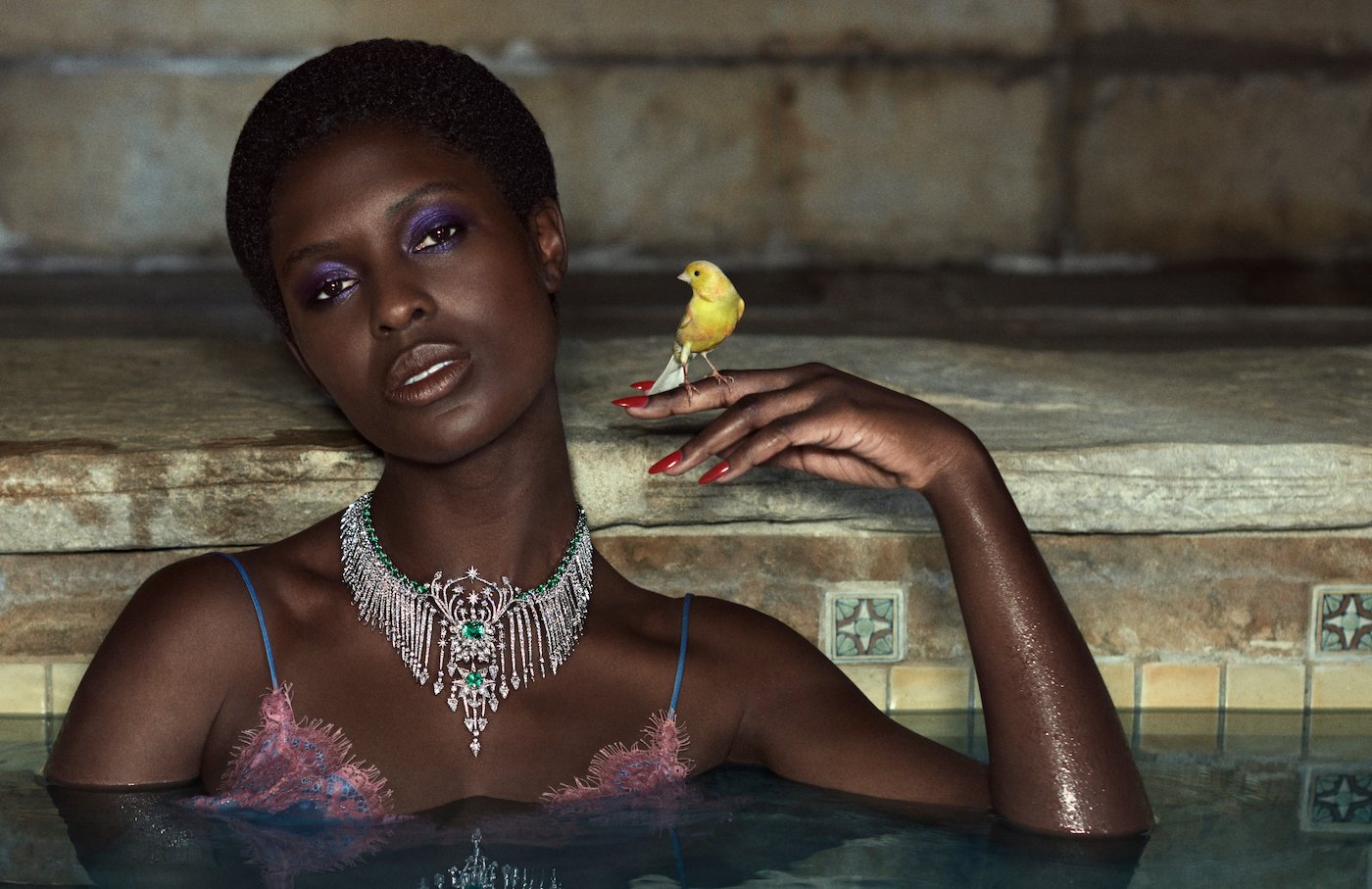 Cascades of diamonds evoke sparkling torrents of a waterfall, while quivering en tremblant Victoriana leaves and stars evoke shooting meteors and the delicate harmony of Mother Nature. Here, fringes embody a sense of spellbinding movement and ornateness, much like star-crossed skies. Alessandro Michel has heralded the return of fringed and tasselled necklaces and chandelier earrings with a distinctly new context. An array of violet and plum-coloured spinels float tonally amidst dangling drops of diamonds, whilst lagoon-like Paraiba tourmalines are used to evoke the bright azure of the ocean.
Dazzling necklaces are especially bold and unequivocal, like the bibbed, spinel-dotted explosion of diamonds that is just as mesmeric as the Aurora Boreali, or a 6.13-carat emerald parure is as vividly green as a springtime leaf, set amidst a constellation of diamond stars that dance centre stage, as if they were being orbited in a spectacular, shiny solar system.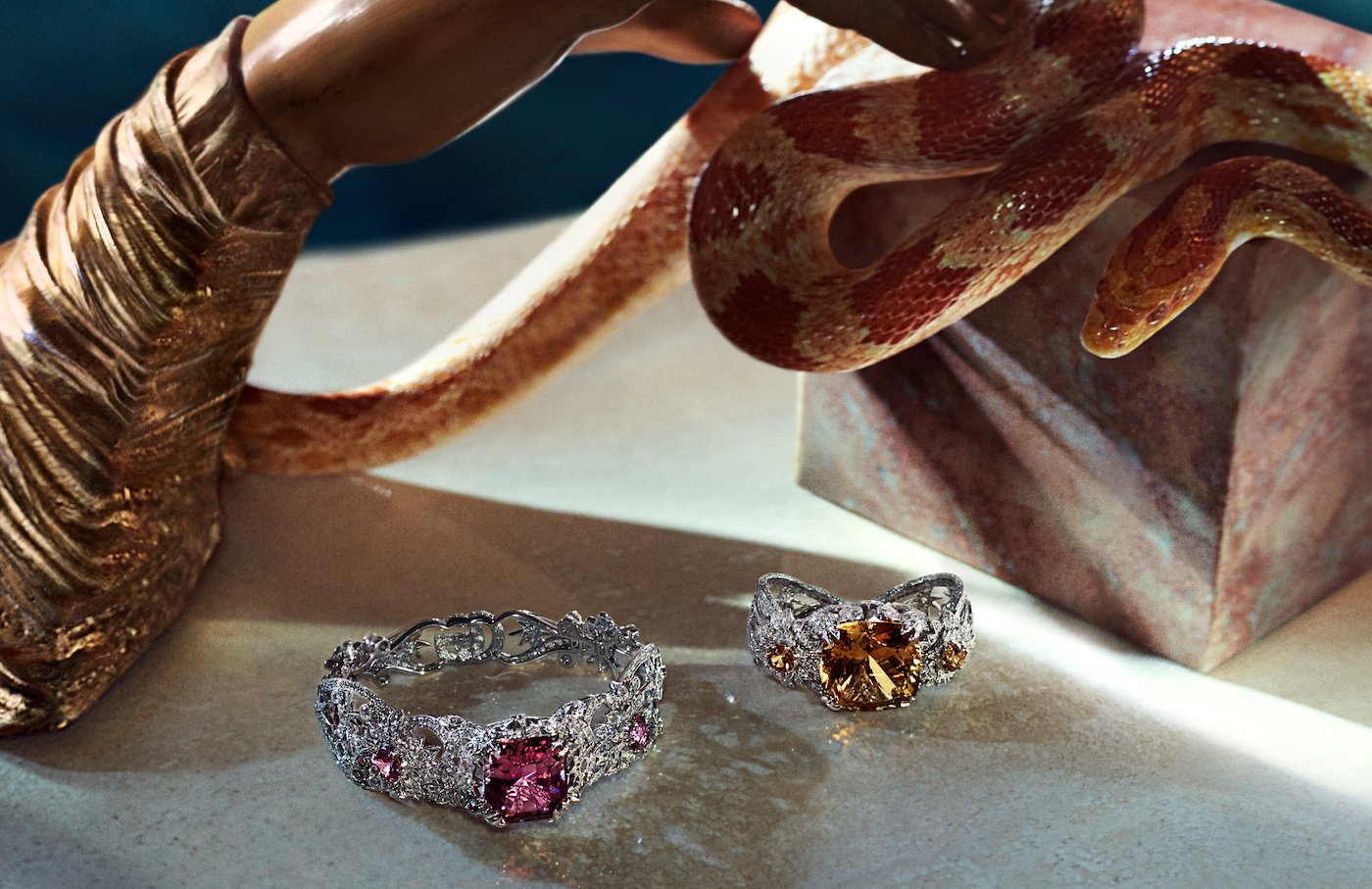 The saturated, hypnotic hues of a sky at sunset informs the second chapter of the collection, which immortalises the fleeting magic of nightfall. Here, styles borrow from the highly romantic - perhaps even gothic - bygone settings of the nineteenth-century, voluptuously wallowing in the past while remaining resolutely modern, courtesy of bold new settings and highly unique gemstones.
Here, opals and topazes sit alongside spessartite garnets and tourmalines in a skyscape of rich, warm colours on a breath-taking Georgiana collet-set Rivière necklace with a 8-carat opal is set with twilight-hued gemstones in what Alessandro Michele describes as "discordant symmetry", elegantly ever-so-slightly mismatched to channel the transcendent ephemerality of a sky's quickly-changing colours as it passes from day to night, whilst distorting and disrupting traditional classicism.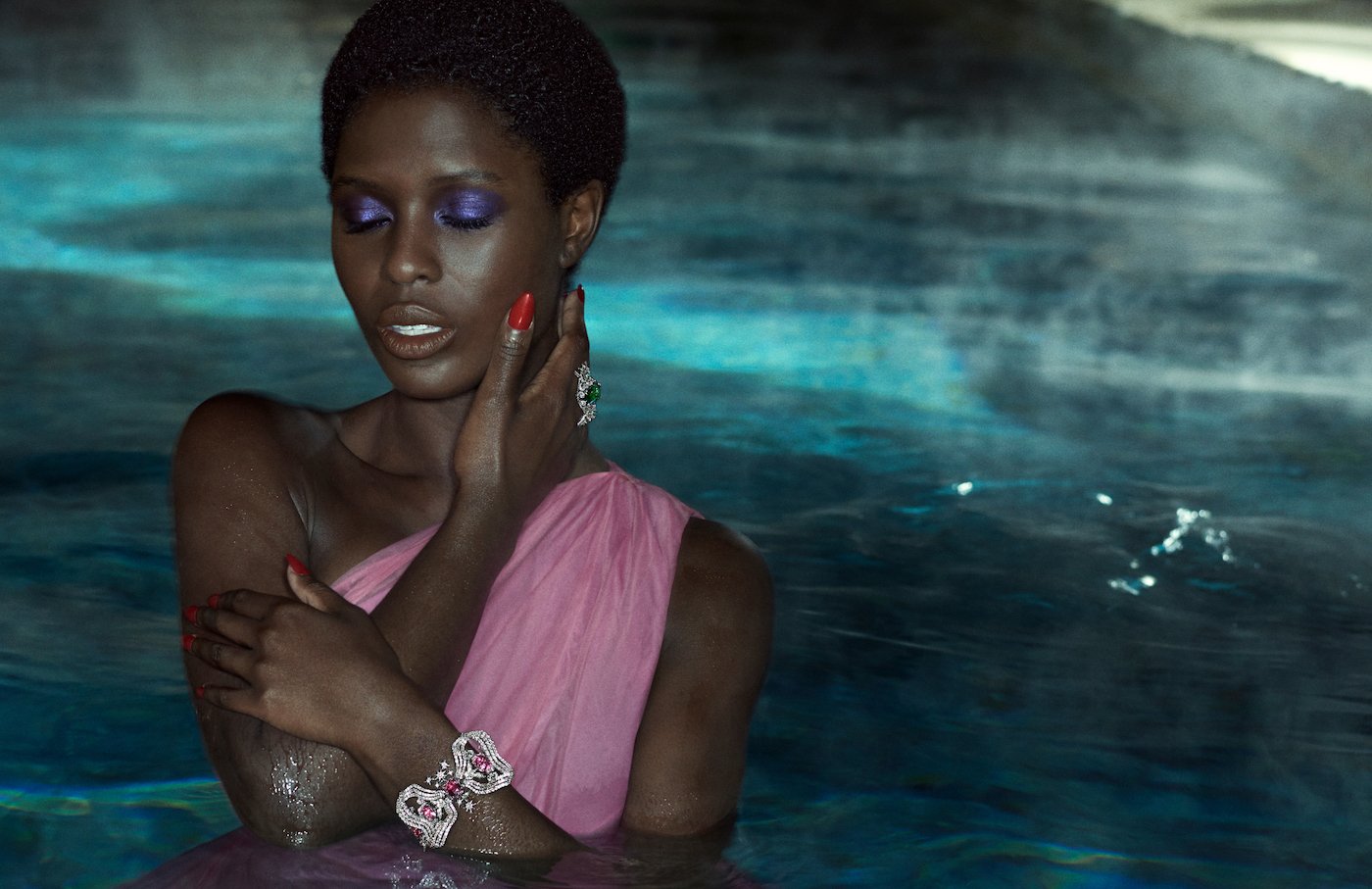 In the third chapter of Hortus Deliciarum, the romanticism of a rose garden forms the foundation for the most delicate and feminine narrative yet. Rococo bows and talismanic sautoirs pay homage to the poetic universe of botanicals, so frequently associated as a symbol of renewal and love. For this, each gemstone has been fastidiously chosen for its delicate, light colour, like the sunset-hued pinkish-orange Padparadscha sapphire, which resembles a rose petal on the cusp of blooming, or the deep indigo of the indicolite tourmalines, as inky as a night sky.
Some necklaces are designed with detachable pendants to be worn as a personally-chosen auspicious charms - or the dazzling array of brooches, allowing the wearer to create a bouquet of jewels to wreathe the décolletage. Flora and fauna, as well as the breath-taking landscapes they inhabit, are brought to life by unique gemstones - each of them a precious talisman of the big, bold natural world.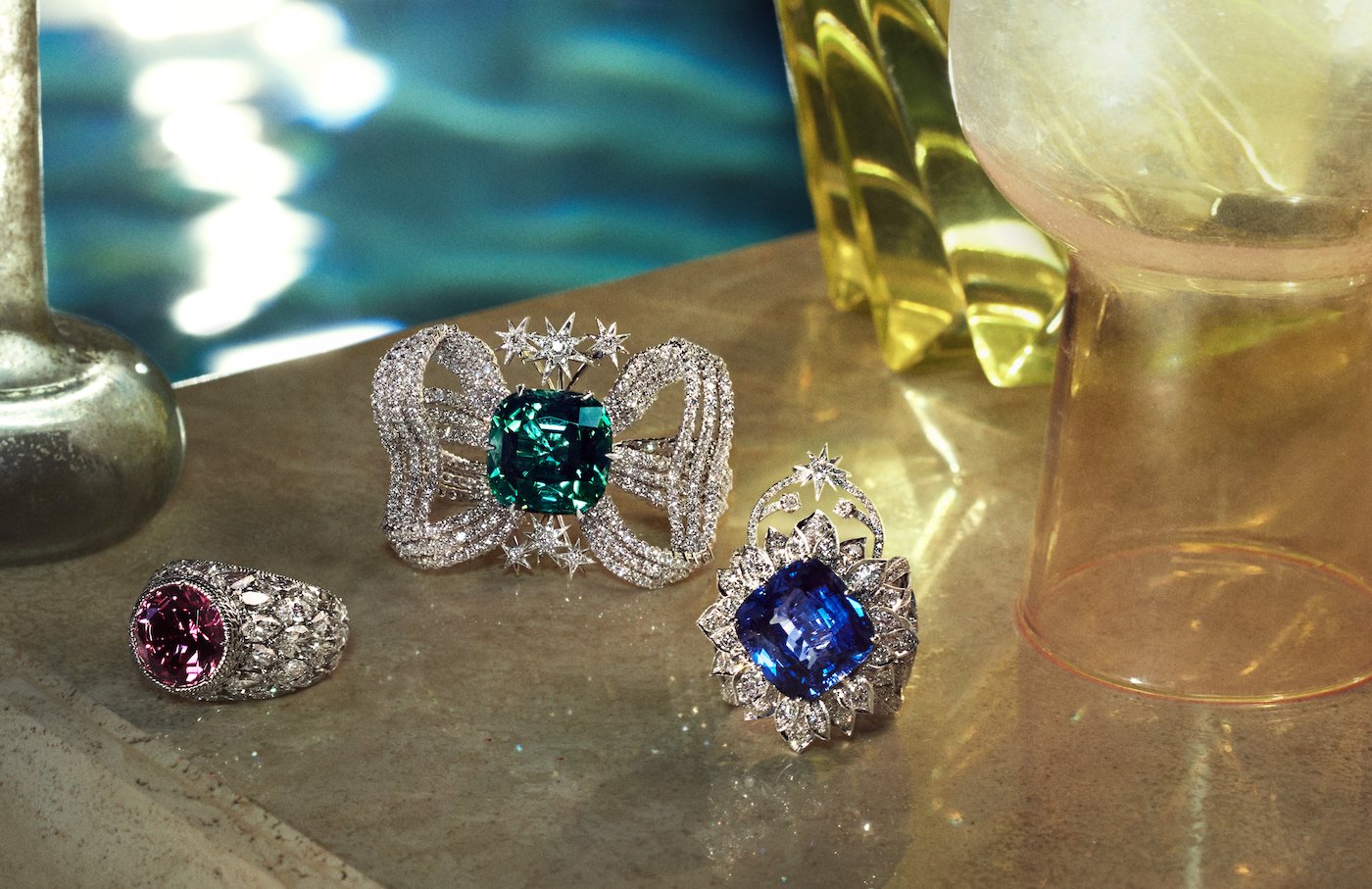 The fourth chapter revisits the animal kingdom, evoking mythic bestiary and ancient fauna. The symbolic strength of the Lion, the courage and passion of the Tiger, and the magical mysticism of Dionysus comprise the crest of Gucci's kingdom of jewels. Sky-blue tanzanites recur throughout, clasped by roaring lion heads and paired with serpentine opals and verdant tsavorites.
In one collier-style necklace, a 16.36-carat opal is surrounded by 22 leonine figures, forming a glimmering pride of lions as an emblem of personal strength. In an array of pieces, the warmth of yellow gold is in- troduced as a new motif within the world of Gucci's High Jewellery - heightened by sunny yellow beryls. Each animal is also surrounded by nature as symbolic flowers, leaves and stars come to life in ornate diamond settings and hidden engravings.
Finally, singular and striking solitaires are redefined with maximalist allure. Here, the vibrant colours of sky and verdant landscapes come to life. Emerald-cut coloured gemstones, intense and joyous, are juxtaposed with pavé heirloom settings: Afghani mint tourmaline, sunset-pink rubellite, velvety violet tanzanites, light orange sapphires, blushed-rosé topaz, and the hypnotic glow of mandarin garnet. Upon closer inspection, coiled rings are either glimmeringly serpentine or geometrically linear - and each central stone has been chosen for its rare unicity, too, such as a spectacular 60-carat rubbelite, a heart-shaped mandarin garnet, and a 16-carat Paraiba tourmaline.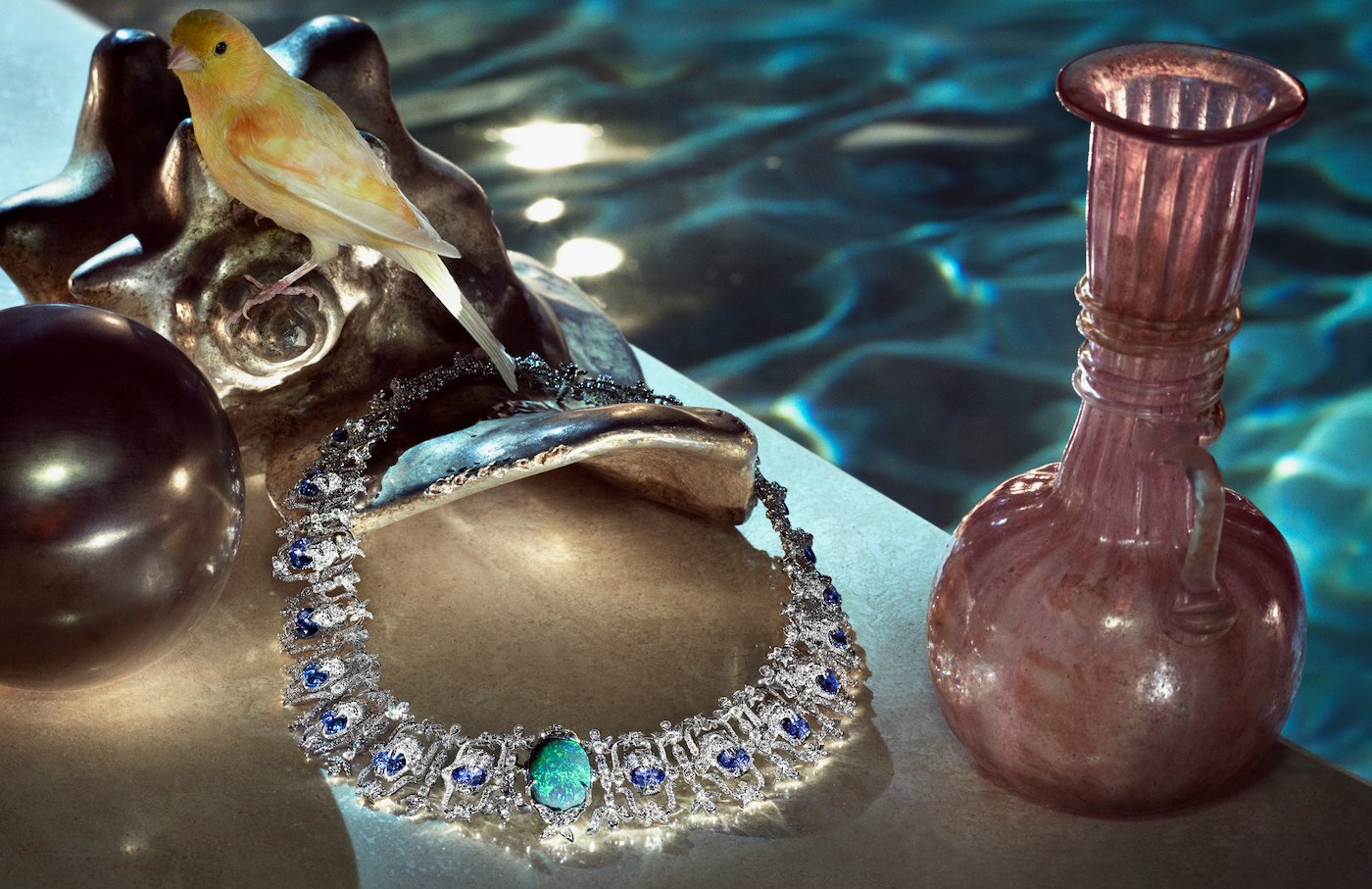 Watchmaking is also redesigned in an attempt to find a connection between the words "luxury" and "soul". Lion heads - one of Alessandro Michele's most treasured house symbols - rotate to reveal and conceal ocean-blue Australian opal dials on a range of dazzling diamond-laden bracelets, set with violet tanzanites and rainbows of peridots, pink tourmalines, rubbelites and mandarin garnets. Against the skin, on the back of the faces, sit delicately engraved stars. Diamond-set flowers form precious clasps which transform the eternal material into images of ephemeral kindness.
Elsewhere, a dazzling brooch with pavé-set lions clasping tanzanites orbit an ethereal peacock-hued opal dial, and ecumenical crucifix watches nod to the Renaissance, exalted through the ornate splendor of Latin crosses set with pavé-set dials and star-spangled spinels. Lastly, a bangle watch is imbued with 275 perpendicular Art Deco diamond baguettes, sleek and modern with a striking concealed turquoise dial.
In essence, Gucci's "hortus" of jewels is inhabited by magical beasts and flowering with totemic symbols of nature, distilling the poetry of the past with the beauty of the present. Each piece evokes the inherent splendour of Mother Nature, Gucci's ultimate muse - and the reassuringly universal beauty of the sky.